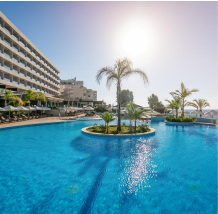 THE ROYAL APOLLONIA
A 5-star hotel, located in Limassol beachfront, close to the tourist region of Germasogeia. The Royal Apollonia boasts refined luxury and warm Cypriot hospitality. The all-year round facilities such as cool outdoor swimming pool, heated indoor swimming pool, tennis and squash courts, a gym, 4 restaurants and The Royal Spa, will certainly entice you to luxury vacations no matter what reason.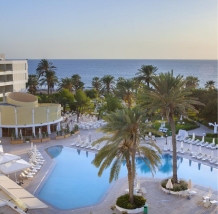 LOUIS IMPERIAL BEACH
In an idyllic setting, the Louis Imperial Beach offers views of a 'blue flag beach', and exotic gardens that nestle around the hotel. Leading out from the front door is a scenic walk to Pafos harbor and castle. This 4-star hotel has the facilities to cater for all needs, be it for couples, families, or groups of friends. If it is adventure that you are after with lots of energy to expend then you are spoiled for choice between various leisure and sporting activities. If you are in search for calm and tranquility, then lean back and let your daydreams drift into the unspoiled surroundings.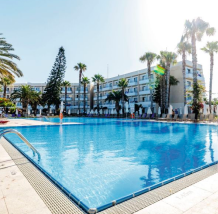 LOUIS PHAETHON BEACH
Not too far from Pafos' harbour is The Louis Phaethon Beach hotel, just steps away from the sandy beach and lapping waves of the Mediterranean. When it comes to indulging your appetite, this 4-star hotel has a choice of Cypriot and international cuisine, the delights of Viennese pastries at the Café Vienna, and a refreshing spot at the Atrium Bar. Louis Phaethon Beach hotel is well equipped for family-style getaways and also kitted out for the sporting vacationer to enjoy games such as tennis, beach volley and archery. For the ultimate joy ride, you gotta try the slides at the hotel's water-park.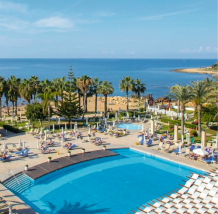 LOUIS LEDRA BEACH
On the coastal edge of beautiful Paphos, is the Louis Ledra Beach hotel, offering views of the ancient port and castle, and nearby walks to more archaeological landmarks, shops and restaurants. This 4-star plus hotel provides an aesthetically serene environment to enjoy the ideal vacation. Guests have the opportunity to lounge in the sun, cool off in an indoor or outdoor pool, enjoy a refreshing drink from the seaside bar, and re-energize themselves for a hand at water sports, tennis, volleyball, billiards and even archery. To complete a perfect day, there is evening entertainment arranged by our team of animators.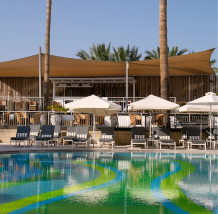 THE KING JASON (PAPHOS)
The King Jason luxury apartments (adults only) are located in a quiet region of Pafos, but still closely connected to central amenities. Lush gardens surround the complex, with apartment blocks that emulate the red-tiled homes of the Greek islands. Its superior studios, one-bedroom suites and deluxe studios offer an elegant ambiance. The exceptional extras include an a-la-carte restaurant; a reading room in the lobby, swimming pool with water massage and the new Elegancia swimming pool for adults only.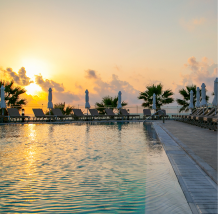 LOUIS PAPHOS BREEZE
The 4 Plus * Ultra All Inclusive Louis Paphos Breeze offers luxury and spacious studios for couples, as well as one- bedroom suites for families, ideal for relaxing and comfortable holidays in Cyprus. The hotel consists of 40 Superior Studios and 104 One-Bedroom Suites, carefully designed to complement the outstanding natural beauty of the island. Guests of Louis Paphos Breeze can be spoiled in the brand new spa or sauna facilities, the 4 swimming pools - including a large indoor pool and a kids pool, while fitness lovers can enjoy the gym facilities with the latest technology equipment, the yoga classes or the tennis facilities. The hotel also has a main restaurant with extensive buffet with show cooking, a brand new themed restaurant - which offer a unique gastronomic dining and 3 different bars throughout the hotel. Other leisure facilities include a sun terrace, indoor animation area and a kids club that is composed of a series of fun activities.